Today: Hospitality Industry 2.0

What does the future of hospitality hold? EHL faculty carried out an internal survey with a view to unearth the direction the industry is heading in. Overall, our faculty suggests the need for hoteliers to properly embrace the above mentioned trends and understand what's at stakes. Six dimensions came out from our survey:

1. Standardization can no longer be the norm

It is becoming critical to personalize and tailor the services to the needs and preferences of the traveler.

2. To create value, focus on niche markets

More customization and specialization may enable increased value creation for hospitality companies. But be careful, as a respondent said, this requires to genuinely think about the value proposition of your offer and not "simply branding and rebranding".

3. Exploit technology as an accelerator for business

Technology will be at the core of the hotel experience both in room, before and after the trip. This will lead to the development of new concepts and more innovation in the industry, and contribute to the emergence of an ever more individualized offer.

4. Social responsibility is a moral and economic obligation

The impact of global warming can today be considered a major risk for both corporations which may lose in revenues and profits, and society as a whole. It is thus critical for governments, but even more so for corporations, to become more sustainable: "not just green, but real sustainable business models".

People are becoming increasingly sensitive to environmental and social issues. A respondent said that this "has to be considered in branding, but beware of green-washers: consumers are now well-aware that window-dressing exists and they will not buy it."

5. Develop more responsive and resilient business models

"Tourism, despite ever-growing flows of travelers, will become riskier and more prone to crises" as the number of travelers steadily continues to grow. This will be accompanied by increased regulation as a response to a disproportional increase in tourist flows in some places (e.g. Venice or Barcelona).

Widespread lockdown, upturned work and childcare schedules have afforded delivery services new importance this year. No longer content with (always) ordering the usual go-to pizza, Chinese or Indian takeaway, consumers are now looking to take things up a notch. Not wanting to forego the frills of fine dining, they are now looking to emulate the experience at home. F&B outlets are making this possible by incorporating drinks deliveries and offering extras: atmospheric candles, QR-code playlists and unexpected freebies. Whilst hotels have played their part in supporting local medical needs and turning hotel rooms into alternative work spaces for those tired with working from home.

6. Manage talents actively

The days of long-lasting employee retention as well as passive, hierarchical management styles are definitely gone. "Attracting, developing and keeping the right talent into and within the hospitality industry remains a core challenge."

Tomorrow – The Hospitality Industry 3.0?

While, as seen above, the consensus revolves around the need for the industry to evolve in order to better adapt to the current environment, some respondents were more 'extreme' and suggested that hotel rooms, as we know them today, "will become a thing of the past".

These respondents refer to the impact of the sharing economy and the tendency of today's customers to avoid traditional hotels. They believe that adjustments in the offer, like the ones listed above, are not sufficient and that the industry has to truly reinvent itself.

This standpoint is reinforced by the increasing importance of technology in the hospitality industry and the power that technology firms are acquiring. A respondent elaborates: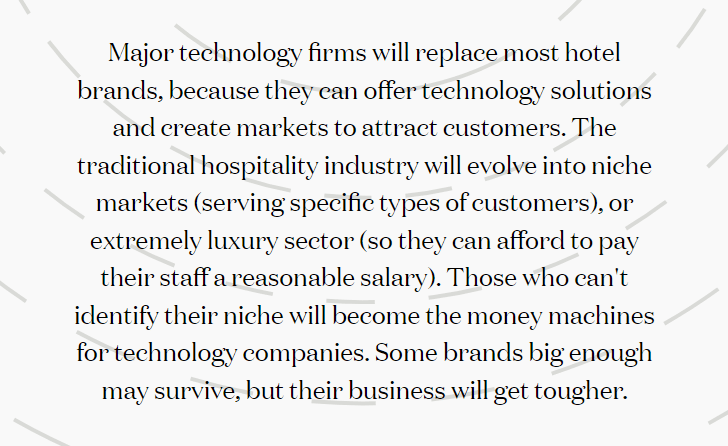 While respondents are more or less alarmist as to the future of the industry, all nevertheless agree that it has to evolve and reinvent itself in order to exploit the opportunities and cope with the challenges it faces. The only question remaining is up to which extent this transformation will have to take place.
---
All copyrights pertaining to this article are owned by CIO Global.