In the world of personal training and women empowerment, few figures shine as brightly as Alice Veglio. Hailing from Italy, Alice's journey from an international model to a champion of women's potential is nothing short of extraordinary. Her tale of accomplishment encompasses not only prestigious fashion runways and advertising campaigns but also a profound dedication to improving lives and breaking barriers in the fitness sector.
Alice's passion for modeling ignited at a young age, with her debut at a Vogue fashion show at the age of 15. From there, her star only rose higher, with notable achievements such as being the face of Juventus and Moto GP, reaching the finals of Miss Italy in 2014, and being crowned Miss Earth Italy Air in 2017.
However, Alice's pursuits have not been limited to the glitz and glamour of the modeling industry. Her academic excellence shines through with a double Italian-French graduation and degrees in Holistic Health Sciences and Economics and Business Management. On top of that, she holds certifications as a Personal Trainer, a degree in Nutrition Science from Stanford University, and international life coach credentials. Internships at prestigious United Nations offices further attest to her multifaceted abilities.
"In the world of personal training and women empowerment, Alice Veglio's shining example illuminates the path to greatness."
Alice's drive for wellness and fitness, fueled by her own experience of overcoming a severe spinal disease during her childhood, led her to establish "Bright & Fit" in 2018. This online fitness program quickly garnered over 30,000 members in its first year, becoming a powerful platform for women empowerment. "Bright & Fit Fitness Program" stands as a groundbreaking venture, blending home fitness, mindset exercises, and nutritional guidance to transform lives. The innovative app, available on both Apple and Android devices, extends its reach globally.
Despite her countless achievements, Alice continues to seek new ways to make a difference. She actively participates in women empowerment events, fitness competitions, and Ironman races. Bright & Fit has grown into a coaching academy and learning company, offering healthcare professionals and personal trainers an opportunity to learn from Alice's holistic approach.
Alice's resilience has been tested time and again, most notably during her battle with viral pericarditis following a Covid infection. Yet, she emerges stronger each time, a testament to her commitment to empowering women to overcome any obstacles they may face in life.
Today, Bright & Fit thrives with a team of 25 dedicated individuals and over 45,000 active users. The company's remarkable success is not measured solely by financial gains or accolades but by the transformative impact it has on the lives of its customers.
"Alice Veglio's journey from international model to champion of women's potential showcases the extraordinary heights one can reach through dedication and passion."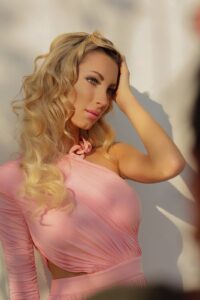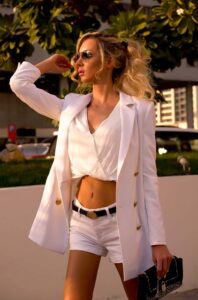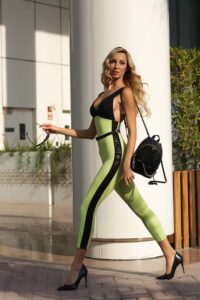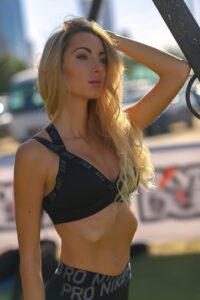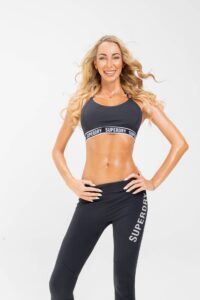 Alice's primary goals for Bright & Fit revolve around empowering women worldwide and innovating within the online fitness industry. She emphasizes enriching the customer service experience, employing modern technology like Artificial Intelligence, and investing in her team's skills to provide effective and empathetic support.
A true believer in work-life balance, Alice finds solace in physical fitness, exploring new trends in her industry, and spending quality time with loved ones. Her love for adventure extends to theme parks, where she and her boyfriend embrace the thrill of roller coasters and shows.
Technology plays a pivotal role in Bright & Fit, with innovations like "My Bright & Fit Chef," an AI-powered service that offers personalized recipe suggestions based on available ingredients. While leveraging technology, Alice understands the significance of human connection, and her team ensures empathetic support for all users.
"With Bright & Fit, Alice Veglio revolutionizes the fitness industry, empowering women to transform their lives and break barriers."
Diversity and inclusion are fundamental values within Alice's organization, with a majority female team fostering a supportive and empowering environment. Her commitment to promoting gender equality shines through her leadership style, leading by example, recognizing efforts, and encouraging growth.
Alice envisions the future of the industry as personalized, digital, and community-driven. Beyond digital platforms, Bright & Fit organizes real-life events, forging connections among users, fostering a sense of camaraderie, and prioritizing emotional well-being alongside physical health.
For aspiring women in business, Alice's advice is simple but profound: dream big, defy limitations, and shatter stereotypes. She stands as a role model, proving that one can be an entrepreneur, a mother, a wife, an athlete—anything one aspires to be.
"Alice Veglio's story reminds us that true success lies not only in glamorous achievements but in the profound impact we have on others."
Alice Veglio's journey epitomizes the transformative power of determination, resilience, and an unwavering commitment to empowering women. With Bright & Fit, she continues to create a legacy that goes beyond the fashion runways, leaving an indelible mark on the lives she touches and inspiring others to embrace their true potential.
"As Alice Veglio inspires women worldwide, she proves that with determination and resilience, we can overcome any obstacles and embrace our true potential."