Donna Griffit is a Corporate Storyteller, Pitch Alchemist, and Best Selling Author of "Sticking to my Story" – The Alchemy of Storytelling for Startups. With over 20 years of experience, Donna has worked with over 1000 startups, VC's, accelerators, and renowned tech giants like Meta and Google. Her expertise lies in crafting powerful messages that drive business results, helping her clients raise over $1.5 billion through her guidance. DonnaGPT, as she is fondly called, possesses the unique ability to ingest vast amounts of data and instantaneously spin them into magical messages that perfectly fit each business.
Stories Stick: The Universal Language of Connection
Donna Griffit firmly believes that stories have the power to inspire and connect people across nations, cultures, and religions. By adapting traditional storytelling techniques to the business world, Donna's approach aligns with one of the fundamental aspects of human nature. She leverages the universal appeal of storytelling to influence decision-makers and create a lasting impact.
From Corporate Training to Startup Storytelling
Donna's journey into the world of business began when she answered an ad on Craigslist in 2003. Fresh out of Grad school, she joined Brad Boyer of Boyer Communications Group, a pivotal encounter that would change her life. Under Brad's guidance, Donna learned to transform technical jargon and complex information into clear, compelling messages that drive people to take action. She traveled around the globe, working with Fortune 500 companies in various industries, witnessing breakthroughs in communication during her 1-3 day workshops. Regardless of the local culture, Donna discovered that people everywhere struggled with over-telling stories, stage fright, and selling their own value. It was a privilege for her to help participants overcome these barriers and achieve their full potential.
"Stories have the power to inspire and connect people across nations, cultures, and religions."
Discovering Startup Storytelling
In 2008, the economic downturn created a challenging situation as organizations cut down on non-vital training programs. Donna found herself at a crossroads, uncertain about her next move. Serendipitously, a prominent Cardiothoracic surgeon sought her assistance to improve his speaking abilities. He also had two medical device startups and needed help with fundraising pitches. Although Donna had never worked on an investor pitch before, her experience taught her that a story, when told effectively, could captivate any audience and drive action. After several months of collaboration, Donna presented on behalf of the surgeon at an Angel Conference. Witnessing ill-prepared companies getting rejected by investors, she realized her new calling: working with startups. Donna fell in love with the high-stakes world of startup storytelling, creating powerful narratives that raised millions of dollars and helping brilliant minds convey their messages clearly. Since 2009, she has focused on startup storytelling, assisting with investor decks, sales decks, competition pitches, explainer videos, and anything that enables startups to tell their stories effectively to specific audiences.
Overcoming Challenges and Maintaining an Edge
One of the significant challenges Donna faced throughout her career was navigating the path of entrepreneurship without a conventional 9-5 job. Being a trailblazer in her field often felt like a lonely road, but Donna's unwavering optimism and determination helped her overcome obstacles. As for maintaining a competitive edge, Donna's unique gift of creating a full-blown investor or sales deck with utmost precision in just two hours sets her apart. This magical ability, coupled with the satisfaction and joy she witnesses on her clients' faces, solidifies her position in the industry. With over 400 recommendations on LinkedIn, Donna's reputation precedes her, enabling her to close sales rapidly.
Measuring Success and Striving for Excellence
Donna measures the success of her business not only quantitatively through data analysis but also qualitatively by observing the satisfaction and breakthroughs her clients experience. Witnessing the joy on her clients' faces after helping them crack their stories is the ultimate indicator of success. Her primary goal is to become synonymous with storytelling for tech, just as "Lean Startup" became a valuable resource for startups. Donna's book, "Sticking to my Story," aims to disseminate her unique gift to wider spheres of influence.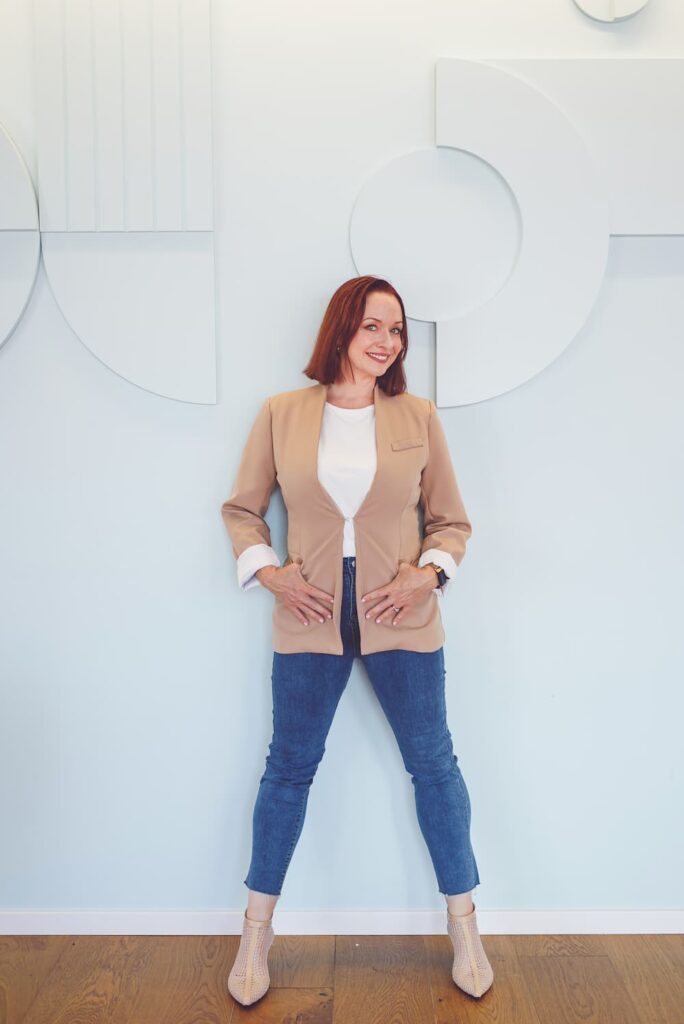 "Being a trailblazer in her field often felt like a lonely road, but Donna's unwavering optimism and determination helped her overcome obstacles."
Work-Life Balance and Staying Ahead
Maintaining a work-life balance is crucial to Donna's well-being. She ensures she works out three times a week and tries to reserve weekends for family time, hiking, and enjoying the outdoors. Donna firmly believes that work-life balance becomes easier when you love what you do, eliminating the risk of burnout.
Embracing Technology and Preparing for the Future
Technology plays a significant role in Donna's business operations. She leverages tools such as CRM, automation, and AI to streamline her workflow, allowing her to focus on tasks that require her skills and talents. Donna acknowledges that the future of the industry will be heavily influenced by AI. She believes in bracing for potential challenges, embracing emerging technologies, and finding ways to maintain her unique edge in an evolving landscape.
Promoting Diversity and Inclusion
As a sole practitioner, diversity and inclusion are not direct concerns within Donna's office. However, she actively devotes time to amplify women founders through her involvement in Women Founders Unite, a community she co-leads. Donna fosters a culture of support, knowledge sharing, and empowerment among women founders, helping them find their unique voices and stories.
Inspiring Others and Shaping the Future
Donna doesn't have a team; she is a one-woman powerhouse. Her approach to leadership and team management revolves around her passion for helping startups succeed. Her ability to motivate and inspire comes from her unwavering belief in the power of storytelling and her genuine desire to see others thrive.
Advice for Aspiring Businesswomen
Donna's advice for young women considering a career in business is to believe in their limitless potential. There is no predefined path, and the career they choose might not even exist yet. She encourages listening to others, accepting advice that resonates while discarding what brings negativity. Positivity fuels success more effectively than negativity, and maintaining an optimistic outlook is vital.
Donna Griffit's journey as a Corporate Storyteller and Pitch Alchemist showcases her unique ability to create compelling narratives that drive results. With her exceptional skills, unwavering optimism, and dedication to empowering startups, Donna continues to shape the future of storytelling for tech.
"Being a trailblazer in her field often felt like a lonely road, but Donna's unwavering optimism and determination helped her overcome obstacles."