Introduction:
Candice Desmet is a 34-year-old French actress who embarked on a journey of creativity, resilience, and entrepreneurship. Starting her acting training in France while studying biology, she ventured into the world of theater and improvisation. After relocating to London in 2012, she established Act'in Theatre in 2015 to fill a void she experienced herself, providing a bilingual theater experience with a focus on artistic freedom and expression. Overcoming challenges and adapting to changing circumstances, Candice has cultivated a thriving community of students and actors who continue to flourish under her guidance.
Overcoming Challenges and Adapting to Change:
Candice faced significant challenges in her career as a businesswoman, particularly during the uncertain times of Brexit and the COVID-19 pandemic. The creative industries, including the cultural sector, were severely impacted, affecting film and television productions and live performance venues. To ensure Act'in Theatre's survival and preserve its friendly and inclusive atmosphere, Candice had to adapt and change. Despite the obstacles, Act'in Theatre has emerged stronger and is now working on various projects, such as brand development, out-of-curriculum activities, and expansion into other European countries. Candice envisions an exciting and successful future, filled with adventure and student-oriented initiatives.
"Candice Desmet's journey is a testament to the power of resilience, passion, and artistic expression."
Performances, as an integral part of Candice's career, pose a unique challenge. Each performance is an original creation, with only one chance to captivate the audience. Making coherent choices and achieving a seamless production requires intense preparation and collaboration with actors, technicians, and creative professionals. Candice acknowledges the pressure that comes with this artistic moment, yet finds the experience magical in itself.
Goals and Strategies for Act'in Theatre:
Candice's primary goal is to grow and solidify Act'in Theatre in London, expanding its workshops and showcasing more shows. To achieve this, she emphasizes the importance of recruiting a dedicated and compassionate team that shares her values. By building a supportive team, Act'in Theatre can adapt to the post-Covid era and meet the increasing demand from students and actors. Candice believes in personalizing her classes to cater to each student's needs and keeping up with their development over time. Additionally, she aspires to open a school in Lille, France, catering to the French-speaking audience. This endeavor requires adapting to the different mindset and establishing a strong presence in a new location.
Candice's vision extends beyond Act'in Theatre to Act'in Productions. By nurturing Act'in troupes and providing opportunities for professional growth, she aims to establish an international presence and create paid work for talented individuals. Supporting their artistic and personal development is vital for enhancing their performance and overall well-being.
A Dynamic and Balanced Daily Routine:
Candice's daily routine is dynamic, with the delicate coexistence of personal and professional lives. While there is no typical day, she ensures that she allocates time for her private life, even if it's just a few hours scattered throughout the day. As an entrepreneur, Candice enjoys the flexibility to merge her personal and professional lives. Nevertheless, the constant nature and volume of work can present challenges. To balance her work, she immerses herself in other forms of arts, such as piano lessons and ballet. These creative outlets provide an opportunity for personal growth and offer a fresh perspective that enriches her work projects. Additionally, engaging in daily sports activities allows her to express herself and channel her creativity, acting as a release valve for the demands of her career.
Staying Current and Networking:
To stay abreast of the latest trends and innovations in her industry, Candice adopts a multifaceted approach. She actively follows both general news and specific news related to her field of activity. Networking plays a vital role in her continuous learning process. Candice seeks opportunities to connect with industry professionals, artists, and production companies. Attending festivals, creative venues, and performance spaces enables her to discover new talent and structures, facilitating the growth and expansion of Act'in Theatre.
What sets Act'in Theatre apart from others in the industry is its unique combination of bilingual theater experiences and the focus on personalization and artistic freedom. Candice's background as an actress and her commitment to creating a supportive and inclusive environment for her students and actors make Act'in Theatre stand out. The presence of multiple troupes, such as Les Gueules de Bois, Gin&Scenic, and Les Improzacs, allows for a diverse range of performances that cater to different audiences. The Entre Act and In'terval formats further enhance the variety of shows offered, providing opportunities for both French and English-speaking audiences to engage with theater. The extensive writing and development of sketches and plays tailored to the students and audiences ensure a unique and tailored experience.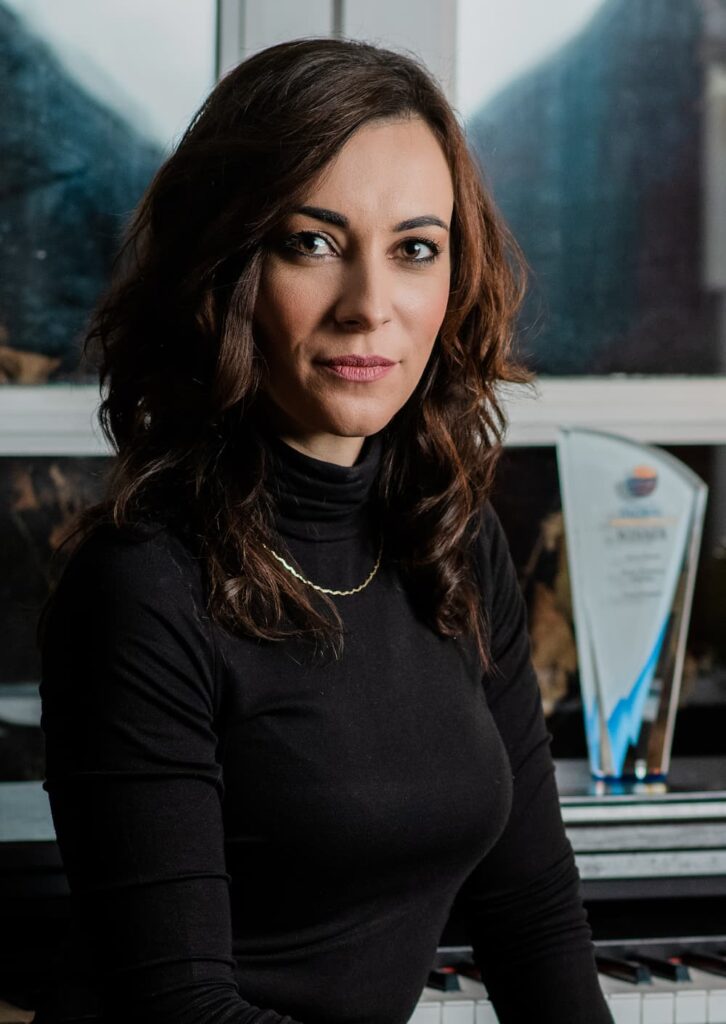 "By fostering a supportive and inclusive environment, Candice ensures that individuals of all backgrounds feel welcome and have the opportunity to grow and thrive."
Candice measures the success of Act'in Theatre primarily through the number of places filled in the workshops and the existence of waiting lists when the workshops reach capacity. Additionally, awareness and reputation play a crucial role, although they are difficult to measure quantitatively. The recognition of Act'in Theatre's work and the positive feedback received from students, actors, and the wider community serve as valuable indicators of success.
While Act'in Theatre prioritizes the human dimension over technology, technology is still used in internal organizational processes. Office automation tools, data management systems, and video editing software are employed to improve efficiency and streamline operations. The aim is to enhance the quality of services while saving time in administrative and management tasks.
Diversity and inclusion are fundamental values at Act'in Theatre. The organization promotes a non-judgmental and inclusive environment where everyone feels welcome. Regardless of age, career background, or theatrical experience, Act'in Theatre offers a safe space for individuals to work on their physical expressions, emotions, and stage presence. The goal is to create a supportive and friendly atmosphere that fosters personal growth and allows individuals to thrive. Intimacy coordination and setting necessary boundaries are also emphasized, particularly for female participants, to ensure a comfortable and empowering experience for all.
Candice's approach to leadership and team management centers around respecting individuals' preferences and rhythms while allowing them to do what they enjoy. She believes that when team members are engaged in work they find fulfilling, their energy and inspiration naturally emerge. Delegation is seen as an important aspect of leadership, allowing the team to develop and supporting their growth. Trusting the team members and providing a supportive environment are key strategies to motivate and inspire the team.
Candice envisions a future of development for Act'in Theatre. The plans include having dedicated premises in both London and Lille, expanding beyond the borders of the UK, and making Act'in Theatre known internationally. Film projects are also in the pipeline, which means running the company alongside her acting career. The focus is on surrounding herself with a strong team and delegating responsibilities to support the company's growth and development.
Candice's advice to young women considering a career in business is to listen to themselves, not project themselves through others, and be guided by their own aspirations and inner voice. She emphasizes the importance of not closing oneself off or putting up barriers. Failure should not deter one's path, as it is a necessary obstacle for growth. The judgment of others should not derail one from their aspirations and what they want to become. Candice encourages young women to ask themselves the question, "Who do I want to be?" and pursue their dreams with confidence and determination.
In conclusion, Candice Desmet's journey as a French actress and entrepreneur embodies empowerment, creativity, and the pursuit of artistic expression. Overcoming challenges posed by Brexit and the COVID-19 pandemic, she established Act'in Theatre in London, fostering a thriving community that values artistic freedom and inclusivity. By personalizing experiences and prioritizing the needs of students and actors, Act'in Theatre stands out in the industry. Candice's vision for the future includes expansion and international recognition. Her story serves as an inspiration, encouraging young women to pursue their dreams while creating a supportive environment for personal and professional growth. Candice's resilience and passion demonstrate the transformative power of artistic expression, making Act'in Theatre a platform for creativity, skill development, and community.
"Candice's commitment to personalization and the needs of her students and actors sets Act'in Theatre apart from others in the industry."